Meet our team of dedicated and compassionate people who contribute their time, their knowledge and experience, and their administrative and organisational skills to look after our retreatants, our retreat space and who help Samadhi thrive.
Dorje Gyalpo 'David' Oromith
Co-Founder // Program Coordinator // Meditation Guide
David is a Buddhist contemplative, author, meditation guide and retreat leader. He is the Co-Founder of Samadhi and a qualified Mindfulness teacher, Mental Health First Aider, and an active member of the Association for Spiritual Integrity. He teaches workshops internationally and leads retreats across the UK. David hopes to inspire people to take back control of their thoughts and feelings and discover genuine wellbeing within. He understands what it is like to be an aspiring meditation practitioner living in the 21st century and believes these practices should be accessible to all.
Co-Founder // Retreat Coordinator // Green Lead // Yoga Teacher
He is the Co-Founder of Samadhi, a Mental Health First Aider and accredited yoga teacher. Manu's laid-back approach and kind heart has a warming and inspiring impact on our retreatants and he is much loved by all. He is also our Green Lead, and will be the guiding force behind making Samadhi Retreat Centre sustainable and eco-friendly. 
Dorje Gyalpo 'David' Oromith
David is a Buddhist contemplative, author, and meditation guide. He is the Co-Founder of Samadhi, a qualified Mindfulness teacher, and an active member of the Association for Spiritual Integrity. He has received non-monastic ordination in the Tibetan Buddhist tradition.
Background
Before discovering Buddhism, David was working in mental health services. He had a series of experiences which made him overwhelmingly aware of the suffering being experienced by himself, his family, friends, and colleagues, and the world around him. He saw an issue in the way psychiatry and healthcare seemed to focus primarily on suppressing symptoms and not getting to the root cause of mental distress. Seeing the limitations of this approach, and with no real wisdom or answer, he grew more and more despondent. Through his journey with depression and suicidal ideation, recognising that there must be answers to his own and others sufferings, he fortunately came across the Buddha's teaching on the Four Noble Truths, which opened up a doorway to healing and working through the inner causes of suffering.
Since that time, David has been fortunate enough to study with many skilled dharma teachers from various schools of Buddhism, in particular the Tibetan tradition, including his primary teacher, Lama Alan Wallace. After several years of study, he was requested to teach and share basic meditation and dharma classes with others. He is a firm believer in the non-sectarian approach, and has received teachings, oral transmission, commentary, and instructions from teachers of the Theravada, Mahayana, Vajrayana and Dzogchen traditions, most prominently from Lama Alan, who is also rooted in a non-sectarian approach with particular close affiliation with the Gelug and Nyingma schools and the Dudjom Tersar lineage. He has also explored emotional psychology through the works of Dr Paul Ekman, B. Alan Wallace and the CEB program. Some other notable influences and teachers include Lama Lena, Venerable Robina Courtin, H.E. Garchen Rinpoche, Zopa Rinpoche and Bhikkhu Kakmuk. He received ngakpa (non-monastic) ordination from Lama Glenn Mullin. Find out more about David's Teachers & Lineage.
In his own practice and teachings, David focuses primarily on meditation training and core Buddhist principles. He often teaches the core theories of Buddhist psychology such as the nature of mind, genuine happiness, loving-kindness and compassion, and mental afflictions such as attachment, aversion and ignorance. He also teaches the practices of Shamatha (meditative quiescence), and its union with Vipashyana on the Four Applications of Mindfulness and the Four Immeasurables – which presents a direct path leading to the realisation of our deepest nature and the potentials of consciousness, and closely follows how the Buddha himself attained enlightenment. David's teachings are very much in accordance with his teacher's approach.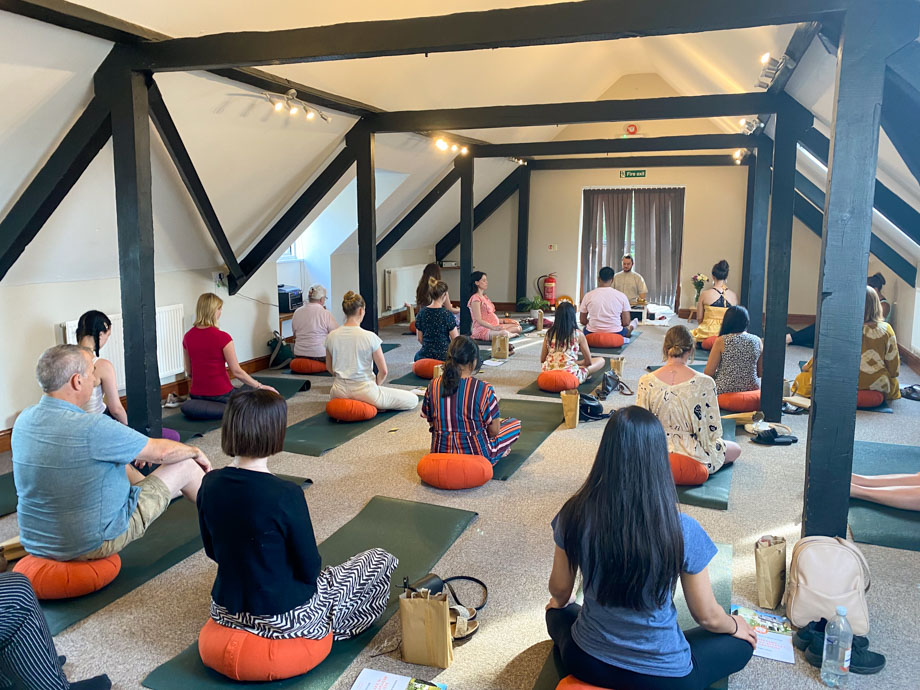 Teaching
Since 2015, David has taught classes and workshops internationally in the UK, Spain, and Gibraltar, and across the world online. He spent two years in Spain focusing on his own study and engaging in retreat according to Lama Alan's instructions before returning to teach at the request of close friends. It was at this time that he and Manu decided to found Samadhi to bring together both of their goals and to help others discover the profound effects meditation and Buddhist psychology could have on their wellbeing.
David's teaching style is clear and practical, and his warm and humorous approach makes him a popular meditation teacher. He understands what it is like to be an aspiring meditation practitioner living in the 21st century and his down-to-earth style makes these practices accessible to all.
In an effort to help everyone uncover the pure, luminous, and peaceful nature of their mind, and discover the ancient wisdom of the Buddha, David is dedicating his life to spiritual development and his vision for The Samadhi Eco Retreat Centre, a place where people can come to engage in short and long-term retreat and live in community.