Meditation & Buddhism | Self Improvement | Personal Growth | Motivation
Listen now on your favourite app...
What is the Samadhi Podcast?
The Samadhi Podcast is a series of bitesize talks and guided meditations that help you become a happier, more peaceful and positive person. Learn how to calm the mind, deeply relax, gain control of feelings and emotions, find inner strength, and let go of negative states of mind such as stress and anxiety by developing a positive approach to life.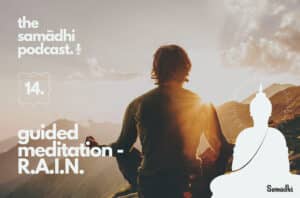 This is a guided meditation on R.A.I.N., recorded by Charlotte Adler. R.A.I.N. is a method by which we release painful emotions through mindfulness and self-compassion. Charlotte explains more about R.A.I.N. in Episode 13 of this podcast. This is a beautiful meditation and we're so grateful to Charlotte for her kindness in sharing this with us. We're sure it will benefit many. May all beings be happy.
Listen Now »